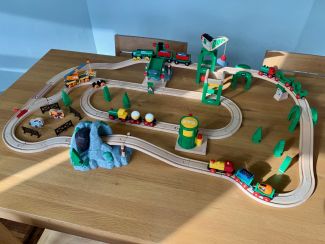 I like taking photos of the different trains and tracks in natural light. That's what I set out to do... others take photos using product photography setups. They are not expensive and I could do it too, but I find it gives you very sterile photos and besides... everyone's doing that already.
When dealing with natural light of course you'll sometimes also have direct sunlight, which was the case here. So it's not perfect.
One peculiar thing about this set is that the cargo train in the back is different from the one that's depicted on the box.