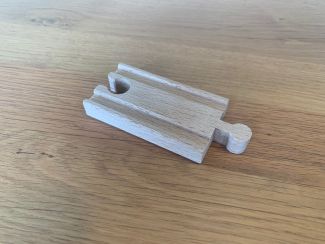 Ahhh, the mythical Middle Straight Track, otherwise simply known as "A3", following BRIO's original denomination for the different types of tracks they had.
Sold only in sets, never separately in a box, this track is hard to come by because it only appeared in a few select sets between 2000 and 2010, starting with 33105 The Cargo Express in 2000 and ending with 33076 Freight Yard Set in 2010.
The track is 72mm long, the difference between a 216mm 33341 Long Straight Track and a 144mm 33335 Medium Straight Track. It's also half as long as a medium straight and 1/3rd the length of a long straight. It makes perfect sense within the BRIO system.
When creating layouts with BRIO rails there will be occasions where you can't make a track fit perfectly without a piece of A3 track. Anyone who's "serious" about making tracks with as little Vario as possible should try to get a couple of these to help in situations where it's otherwise impossible to make ends meet.