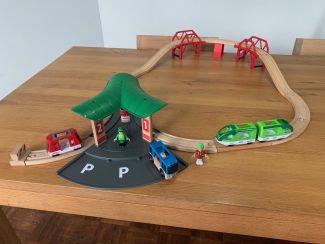 Even though I am not fond of this set – I think the bus station looks bad and is hard to integrate into a set – BRIO did put a good amount of special items in there.
First and foremost is the inclusion of a Parallel Switch! That is amazing. It actually sits behind the station and is not showing in the picture. These were last sold in 2004 and BRIO had not made nor included them in a set ever since. So they had been missing for 13 years. It was so great to see it make a reappearance because, in my opinion, that switch is a must have if you have something like a Central Train Station. It is the only way to easily join (or split) two parallel tracks.
Other than that there are the red tram and the blue bus which are special, as well as the green travel train.
Another pecularity about the set is that it comes with the monorail support, but this time in red. Even stranger is that they included it but it's not actually necessary to keep the track up. It just sits under the track in the back, but the track is already supported on the two curved bridges.